4
2016 CD3 Detroit Meet is this Saturday, August 20th!
Facebook public event:
https://www.facebook.com/events/597083930495741/
Details
Our very own Troy Walls of CD3 Performance is partnering up with Dead Hook Motorsports! Enjoy Metro Detroit and
The Official Page of the Woodward Dream Cruise
with fellow Ford enthusiasts from all over the area. This meet will be Ford Fusion heavy but anyone that loves these cars is welcome! We will update this page over the next week but tentative schedule is as follows.
Friday Night Aug 19th:
If you're in town, join us downtown in Greek Town at 8:00pm EST for dinner. We will park in the free Greektown Casino Hotel parking structure on Monroe Ave. on the very top level. You enter the parking structure off of Monroe Ave. The new Wahlburgers restaurant just opened so we will be checking that out but there are tons of things to do in the area(restaurant subject to change).
Parking structure map:
https://www.google.com/maps/place/G...0ea1ffb49683149!8m2!3d42.334482!4d-83.0414963
Saturday Aug 20th:
Dead Hook Motorsports was nice enough to let us meet up at their shop for a couple hours before we hit the dream cruise! They are THE leader in small displacement EcoBoost power and (surprise surprise) we will be teaming up with them for ALL official fusion Installs/builds/CD3 exclusive parts from this point forward. So yes, that would make them/us the first dedicated Fusion performance shop in the nation and you'll know where to find CD3 in person from now on. There will be details on this down the road but no better way to introduce them to the community than this!
Dead Hook Motorsports
1280 Souter Dr.
Troy, MI 48083
(855) 722-3346
Facebook Page:
Dead Hook Motorsports
(Please click on the link to like the page to support their business!)
Website:
https://www.facebook.com/DeadHookMotorsports/
MAP:
https://www.google.com/maps/place/1...b5d44819e13aed!8m2!3d42.5450083!4d-83.1292972
At 2:00pm EST we will travel to 9 Mile and Woodward Ave. where the official Ford Dream Cruise display is. There is a lot on the west side of Woodward Ave. off of Withington St. (behind the Inyo Restaurant & Lounge of Ferndale) that we should all be able to park together in. You will need to pay for parking but I promise you it is worth it. Please note that 9 Mile will be closed during the Cruise event on Saturday.
9 Mile and Woodward Map:
https://www.google.com/maps/place/W...e0693fc443d90f!8m2!3d42.4605894!4d-83.1343307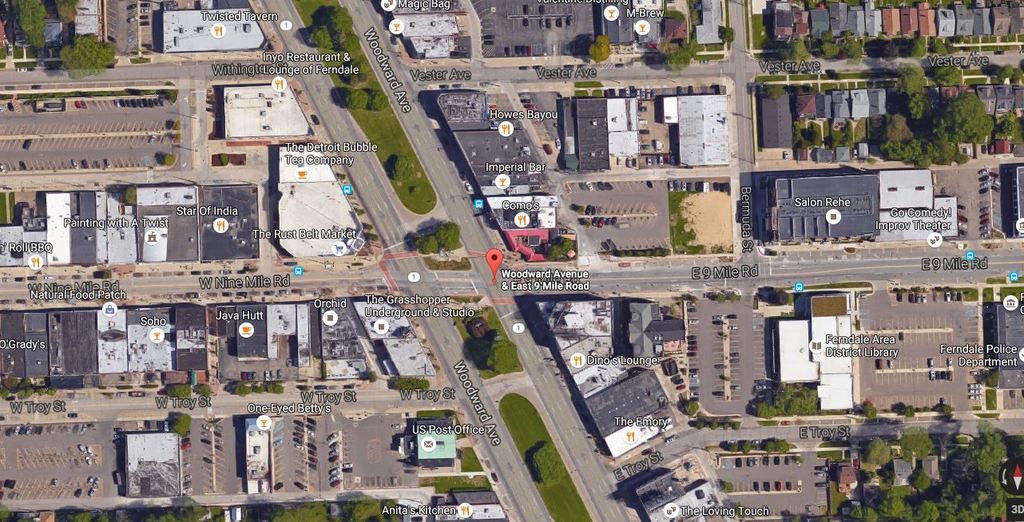 Parking Lot Map:

Ferndale Plaza Shopping Center
Inyo Restaurant & Lounge of Ferndale
22871 Woodward Ave.
Ferndale, MI 48220
The Dream Cruise is THE biggest cruise in the world and goes on for miles. It has the rarest and most unique cars from across the country all at one event. After we check out the Ford Display you are free to cruise/walk around and take it all in. It's almost impossible to cruise together because there are tens of thousands of cars driving around but it's fun to try. We are up for suggestions if anyone wants to meet up later that evening after the cruise gets shut down. The evening will be free form!
Updates will be added as they come! Hope to see you there!